Top Links
Partner Sites
Latest Comments
It looks interesting and heavy. Who do they expect to drive that around town?
Written by: Robert, Tuesday, 22 January 2008
Article:
Haro Bullster Street ATV Quad
Who's Online
We have 4 guests online
Home
Written by Raceway Extreme Tube Team
Was blog hopping today and found a nifty article from a QR code tracking service and marketing campaign leader, BeQRious.com about Ferrari's use of QR codes in its latest Risi Competizione campaign. It seems that Ferrari has put QR codes on their race cars, particularly those competing at the Sebring International Raceway in Florida.
We have to admit that this was one cool way to merge business and QR codes. But just in case you're wondering where you'd seen these QR codes on the race track before, here are some of our suggestions.
1. Vodafone McLaren Mercedes F1 team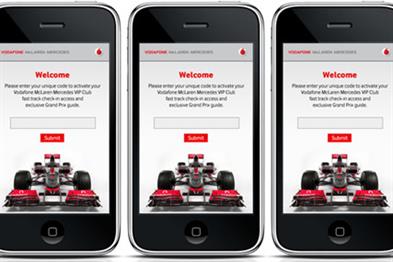 In July 2010, visitors to the Silverstone racetrack were greeted by QR codes that when scanned took them to exclusive McLaren Mercedes F1 Team content (photo: BrandRepublic.com)
2.Tissot QR codes at the MotoGP race.
We won't even supply words for this. Just take a look at how to scan these girl... uhrm... QR codes.
Tissot also came up with a QR code campaign with Danica Patrick
| | |
| --- | --- |
| Updated: Thursday, 24 March 2011 | |
Written by Raceway Extreme Tube Team
All this NASCAR talk has gotten us thinking about snow.
Anyway, we are thoroughly excited for an upcoming film called the Art of Flight.
The Art of Flight comes from the same producers of That's It, That's All but promises to be a bigger and better movie.
so what do you have here? Travis Rice, Mark Landvik, John Jackson, Jake Blauvelt, Nicolas Muller, Gigi Ruf, Pat Moore, Scotty Lago and DCP all doing the things they've never done before on the snow.
This is snow and tricks at its finest. Take in the sights from Chile, Patagonia, Alaska, British Columbia, Romania, Austria, and Jackson Hole. Be prepared to drop your jaw.
Check out the trailer and pray that September 2011 comes sooner than it should.
In the meantime, content yourself with Skiing 7 Summits, which chronicles the adventures of Davo Karnicar who was the first man to ski down Mt. Everest from the summit to the base. Karnicar was also the first one to ski from the seven higest summits in each continent.
Written by Raceway Extreme Tube Team
It's NASCAR season, so we're hoping to catch these two ladies in competition!
Maryeve Dufault
Maryeve Dufault spent her growing up years in Canada, where she spent a lot of time watching and getting inspired by her dad do motorcycle racing.
She was four when she started motocross, but it was 12 years after that she got her first sports bike.
Fearless, she always showed what she could do with speed and adrenaline.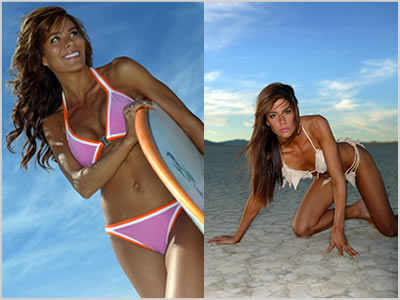 Dufault is a model, a career that happened by chance. She saw a Hawaiian Tropics contest advertisement in the newspaper and joined for the fun of it. She ended winning over 35,000 girls from around the world, a feat that earned her $100,000 cash and a modeling contract. She also appeared in various videos, magazine and print ads and movies. She has worked with big name stars such as Sylvester Stallone, Estella Warren, Burt Reynolds and Eddie Murphy.
Dufault made her ARCA series debut at Daytona Beach, FL.
Danica Patrick
Danica Patrick certainly needs no introduction. Born in 1982 in Beloit Wisc., Patrick has seen action in both the IndyCar Series and NASCAR.
Patrick started out strong in the racing world, having been names the Rookie of the Year at both the 2005 Indianapolis 500 and 2005 IndyCar Series season. In the 2009 Indianapolis 500, she broke records by finishing third, the highest finish by a women in the Indianapolis 500 event.
Patrick is a TV host for Spike TV's Powerblock, among other shows. She has also appeared in TV commericals, magazine covers, and acted in a CSI: New York episode.
Need more racing beauties? Take a look at:
Simona de Silvestro
Ana Beatriz
Pippa Mann
| | |
| --- | --- |
| Updated: Tuesday, 22 February 2011 | |
Written by Raceway Extreme Tube Team
NASCAR has imposed two changes aimed at reducing speed last Sunday.
The changes to the specifications, which are limiting the maximum size for the cooling system's air inlet to 2.5 inches x 20 inches and setting the release valve pressure at 33 lbs/sq. in.
This will presumably overheat the cars if they push each other in two-car tandems on extended runs. It seems that NASCAR officials went all nervous when the cars registered speeds of up to 206 mph during Saturday's race. They think that races at speeds below 200 is good, but above it... well, it's DANGEROUS.
We don't really think that there is a significant difference as far as safety is concerned, whether you're driving at 199 mph or 206 mph. But hey, we're not NASCAR officials.
And it seems that these two changes are not the only ones being suggested or considered. There's the idea that the size of the restrictor plate hole should be reduced, further slowing the cars down.
Would there be a time when the S in NASCAR would actually mean SLOW? Darrell Waltrip, three time champ and winner of 84 career NASCAR Cup Series races, sums it up nicely:
"My opinion is you simply can't make a judgment call based on what you saw Saturday night. It was a short exhibition race basically with a limited amount of cars. It was just more than half a full field that we race with. Again, the weather and track conditions were at a premium. They won't be anywhere near that again before the Daytona 500."
Leave the cars alone, NASCAR. Instead, work on getting the lights to work when your boys are racing.
| | |
| --- | --- |
| Wednesday, 16 February 2011 | |
Written by John
The Stunt Wars is an annual gathering of daredevils in Orlando FL. This year's event was held on Jan. 14-16, with ticket prices at $5, $10 and $15 on each days. What do you get from going? Well, you have a whole day of live music, DJs, games, raffles, food and drink specials, meet the riders, and bike shows.
Meet Boston Bob
And then there are the tandem riders... we think that there are some instances when the stunts get racy, or at least it looks lascivious to us...
These guys do not even need to get inside your car to get a free ride.
That even the pros have some problems
This year's winners in the individual freestyle event:
1. Bill D.
2. Luke Duke
3. Krazy Kyle
| | |
| --- | --- |
| Updated: Friday, 11 February 2011 | |
Written by Raceway Extreme Tube
We're kinda busy reading about how Mark Sanchez of the New York Jets showed some underage loving with 17 year old, Eliza Kruger. Nothing illegal of course, because the age of consent is 16. But it is just wrong.
Just kidding. We are actually hooked on the Argentina Vs. Portugal Internationally Friendly Match and will be back soon.
In the meantime, just so you don't miss us too much, here are some of the most awesome, most talented bunch of people we've ever seen assembled in a YouTube video. Share some love :)
| | |
| --- | --- |
| Wednesday, 09 February 2011 | |
Written by Raceway Extreme Tube Team
While much hoopla is going around Cyberspace about Christina Aguilera's version of the National Anthem on the Super Bowl XLV(see the video here), we must say that we hardly noticed it, right?
Right. Most of us did not even hear the flub until we saw it on the Web and how people were calling it disrespectful, with some calling to ban Aguilera.
Luckily for Aguilera, there were just other things going on that we soon forgot about that. For starters, Lea Michelle showed us why she's the star of Glee, which had a special episode that night where they went on the field as zombies in football uniforms. In her almost effortless and perfect rendition of America the Beautiful, the only other thing that kept us distracted while being glued to our screen was the bling on Michele's finger.
Of course, we have already showed some love for the annual parade of ads that are shown during the breaks. Our best bets are here:
Super Bowl would not be Super Bowl without the great half-time entertainment, and this year that is provided by the Black Eyed Peas.
Of course, we do get the feeling that everything else BUT the BEP was outstanding here. Usher and Slash stole the show, even the back up dancers and the flashing lights on their wardrobe did a better job at keeping us awed than BEP. Oh well.
Other distractions include jumbotron moments with former president George Bush with wife Laura, Cameron Diaz feeding A-Rod popcorn, Michael Douglas looking a lot better even with throat cancer and Catherine Zeta Jones, Jennifer Aniston, Adam Sandler and Hugh Jackman.
And then, there is the game itself.
Who did you root for? It doesn't matter because both teams put up a good fight. Some of the best moments we can't stop talking about:
1. Rashard Mendenhall's Crucial Fumble. Mendenhall is often steady-handed, bringing the ball over 60 yards more than a dozen times. But his late fumble was ominous of a Packers' win. Mendenhall knew it.
2. Troy Polamalu might as well have sat the whole thing through. We were expecting some great clutch plays from Polamalu but he just did not deliver. He didn't recover any fumbles, he made three tackles and absolutely did not intercept anything.
3. Jordy Nelson was on a roll. Who can forget that touchdown?
Of course Greg Jennings had two touchdowns. And we were betting on Nelson or Jennings to get the MVP nod, but it went to Rodgers instead.
| | |
| --- | --- |
| Monday, 07 February 2011 | |
Written by Raceway Extreme Tube Team
It's Super Bowl Time.
It's that time of the year again when the National Football League determines the league champion for the past year. Yup, the Super Bowl is now on its 45th year.
The Super Bowl is the most-watched TV program year after year with more than 80 million to 90 million Americans tuning in annually. Plus around 20 million more from other countries. It commands a 60 share and 40 rating on the Nielsen TV ratings. Not bad for a 45 year old huh?
What's more, 1982's Super Bowl was watched by almost half of the households in America during that time. That's more than 40 million households! It is the fourth top-rated program of all time. What's more, three other Super Bowls made it to the top ten: XII, XX and XVII. Last year's Super Bowl had around 106.5 million people watching it. That makes it the second most watched annual sporting event after the UEFA Champions League.
And while we watch the action, there has been a tradition that formed over the years. Nope, we're not even talking about the half-time shows! With that many eyeballs glued to their sets, it is not the venue to actually forget the lyrics to your own country's National Anthem as Christina Aguilera did:
Ooops... what we meant to say was that, with the number of people watching it, it's not going to be a suprise that we have a flurry of advertisements.
For this year, it is said that advertisements spent close to $3 million for a 30 second spot during Super Bowl breaks. That's close to $100,000 per second, more than what most of us makes in a year. The hefty price tag and the time limit has pushed the advertisers to their wittiest streaks as they vie for your attention. So what we have are the most attention grabbing, witty, funny and downright memorable ads of the year.
Every year, people have come to anticipate the Super Bowl ads, much like how they anticipate the games itself. And the advertisers are hoping that their $3 million will be money well spent. Meaning, they hope that you see it, it sticks to your mind, you go on Facebook.com and share it, or tweet about it to your friends. They also hope that you discuss it with your family or around the watercooler at the office.
So what did top the advertising line up this year? Here are our bets:
Bud Light's Dog Sitter:

More canine fun with Doritos:

Pepsi Max's Love Hurts:

And our runaway winner? Volkswagen's Darth Vader ad:

But while we love Danica Patrick on the race tracks, the GoDaddy.com spot just plain sucked. Double :(
But that does not really qualify for the worst in our list. At least, there is a world of possibilities for the GoDaddy.com ladies. Hyundai's Elantra takes home the trophy for the Duh? Super Bowl Ad of the Year.
| | |
| --- | --- |
| Monday, 07 February 2011 | |
Written by Raceway Extreme Tube Team
Who is Seth Wescott?
Wescott is a Durham, North Carolina native and is currently living in Maine.
Seth's father, Jim Wescott, worked as the track and cross country coach at Colby college while his mom, Margaret Gould Wescott is a University of Maine professor.
Seth entered the world of snowboarding at only seven years old, and soon branched out to skiing as well. He was soon competing for both snowboarding and skiing.
In 1989, however, Wescott decided to focus on snowboarding, leaving his professional skiing days behind. It was a decision that led to a great career in men's snowboarding. He has been with U.S. Snowboarding team member for the past 13 years.
In that time, Wescott racked up an impressive list of medals and accolades. He is currently a nine-time X Games medalist, a World Snowboardcross Champion.
Westscott's medals include:
GOLD
| | | | |
| --- | --- | --- | --- |
| 2005 | FIS Snowboarding World Championships | Whistler | Snowboard cross |
| 2006 | Olympic Games | Torino | Snowboard cross |
| 2010 | Olympic Games | Vancouver | Snowboard cross |
SILVER
| | | | |
| --- | --- | --- | --- |
| 2003 | FIS Snowboarding World Championships | Kreischberg | Snowboard cross |
| 2004 | Winter X Games | Aspen | Snowboard cross |
| 2005 | Winter X Games | Aspen | Snowboard cross |
| 2007 | FIS Snowboarding World Championships | Arosa | Snowboard cross |
| 2010 | Winter X Games | Aspen | Snowboard cross |
| 2011 | FIS Snowboarding World Championships | La Molina | Snowboard cross |
BRONZE
| | | | |
| --- | --- | --- | --- |
| 2007 | Winter X Games | Aspen | Snowboard cross |
Official Web site:
www.sethwescott.com
Written by Raceway Extreme Tube Team
Girls who were not much into the extreme action at the Winter X Games still found themselves rooted as they watched 18-year-old Sebastien Toutant compete in the Big Air and slopestyle competitions.
Seb Toots might be one of the youngest competitors, but he showed the world what he's made of. He has been doing double corks and other tricks even before he was old enough to drink beer.
He has racked up the golds and the medals having graced the podiums of the Winter X Games 15 where he won gold for slopestyle, and placed second to Torstein Horgmo in Big Air. He also got the gold in Beijing Air and Style last year.
In 2009, he basically hoarded gold at the New Zealand Open (slopestyle), Freestyle.ch in Berlin and showdown Grouse. He also placed 2nd at the US Open (slopestyle) and the Atlas Open.
Here is Sebastien Toutant's Backside 1260 trick at the Snowboard Big Air event at the Winter X Games 15
Toutant is Canadian and is currently based in Montreal. He has the Tootsie Roll as a signature trick.
| | |
| --- | --- |
| Wednesday, 02 February 2011 | |
Written by Raceway Extreme Tube Team
Last Friday, Torstein Horgmo became the first and only snowboarder to have completed at triple cork in the Winter X Games. Horgmo did the triple cork in his final go at the big-air competition.
If you think that's stupendous, think about this: the Norwegian snowboarder accomplished this despite going through a crash earlier and suffering from a broken rib!
Who is Torstein Horgmo?
Torstein started riding in 1999, when he was around 12. He is turning 24 this Feb. 18.
Horgmo has been known to skillfully execute very technical tricks with seeming ease and style.
He's also an old face at the X Games, having won the gold in the Winter X XII in 2008, going against Travis Rice (semifinals) and Kevin Pearce (finals). He was, however, beaten by Rice the following year.
The impressive feat with the triple cork is not the first for Horgmo. He first succeeded with the trick during last summer in his native Norway.
| | |
| --- | --- |
| Updated: Monday, 31 January 2011 | |
Written by John
Whistler, British Columbia has another Winter X Games gold, courtesy of Sarah Burke.
We really think that Sarah would have gotten used to winning the gold by now, having won it for four straight years at the Winter X Games freestyle skiing event. But the ever humble Canadian has this to say:
Born in 1982, the 29 year old is known as one of the world's best skaters. She started competing at 15, but has since won every major competition she's entered in both Slopestyle and Superpipe.
In 2007, she became the first and only woman to complete a 1080-degree spin at the World Skiing Invitation.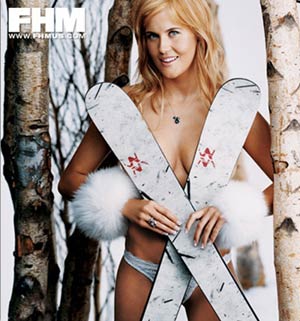 She is also credited to have helped advance women's freestyle skiing.
Her Wikipedia entry notes that Sarah was voted number 91 on FHM's 100 Sexiest Women for 2006. She is currently married to Rory Bushfield, another freeskier.
Sarah also has her own level in the video game, LittleBigPlanet.
Official Website:
http://www.sarahburke.tv/
Facebook fan page:
http://www.facebook.com/pages/Sarah-Burke/50553451173
| | |
| --- | --- |
| Updated: Friday, 28 January 2011 | |
Written by Raceway Extreme Tube Team
Daniel Bodin made waves at the Winter X Games 2011 when he won the gold for the Snowmobile Freestyle event. The victory is super sweet for Bodin who finished fourth in the last four years!

Daniel Bodin during the Eliminations
Photo by Brian Mahardy at http://sledstyle.wordpress.com/
Bodin during the Eliminations
Bodin who came into this year's Winter X Games under the mentorship of Levi LaValle, beat out defending champion Justin Hoyer. LaValle was injured in December 2010 during his practice for New Year's No Limits.
Official Website:
http://www.danielbodin.com
| | |
| --- | --- |
| Updated: Friday, 28 January 2011 | |
Written by Raceway Extreme Tube Skateboard Team
Danny Way is a professional skateboarder. The 36 year old Portland, Oregon native has been skating since the age of 5 and has been winning contests since the age of 11.
The list of his achievements are long. Winning his first vert contest in 1989, named as Thrasher Magazine's Skater of the Year in 1991 and 2004, set records for the Biggest Air, land speed record and long distance jump, and countless of golds at the X Games.
If that is not enough, how about his jump over the Great Wall of China? Danny Way is the first person ever to jump the Great Wall and land successfully.
Danny's official Web site is at http://dannyway.com/
Thirty-seven-year old Andy McDonald is also a professional skateboarder and is one of the most famous professional vert skateboarders alive. McDonald holds the most number of X Games medals and have been an eight-time champion at the World Cup Skateboarding fetes.
He started at age 12, turning pro some eight years later. He became Transworld Skateboarding's best overall skater as voted by its readers.
Andy's official Web site is at: http://www.andymacdonald.com/
Written by Raceway Extreme Tube Team
If there's one thing we are sure of here at RacewayExtremeTube.com it is that you guys like to it extreme and you like to watch.
So how about getting a movie for once?
We thoroughly recommend First Ascent.
Sender Films' First Ascent, the film, came out on DVDs in 2006 and has widely been regarded to be the best climbing movie of all time. The premise of the film is simple, they follow different climbers on their way up from Canada, the United States and even as far out as Thailand. So if you like gut wrenching climbing action, coupled with some big falls, then this is your poison.
It's not just rock, wall, crack climbing and falling, it's educational too. The film takes you on a short history of first ascent from the 1960s up to the modern day. Not that it's the sort of content you want.
Still not convinced? Then check this out.
| | |
| --- | --- |
| Tuesday, 25 January 2011 | |
Written by Raceway Extreme Tube Team
People are betting for Tucker Hibbert to win the Winter X Games this year. Again.
If everybody is right, that is going to be Hibbert's fifth consecutive and sixth overall gold for SnoCross.
Hibbert has been a strong crowd favorite and it shows. He has basically obliterated every challenger that came his way. From 2007 on, Hibbert has been the only competitor to get the gold, while six others vie for either silver or bronze. All six are facing him again this year.
Hibbert is definitely starting strong, already sweeping the Pro Stock and Pro Open classes in the ISOC national snocross series.
Hibbert has long been known for his mental alertness and concentration. It seems that he is out there alone. He says so himself, saying in an interview that he ignores what the others are doing and do not worry or pay attention to what the others are doing. He has been called unapologetic, fast and diligent.
Will Hibbert be able to hold the record for the most golds at the Winter X games this year? The record is already his, but he shares it with Blair Morgan.
Get at taste of what to expect in this YouTube video showing Hibbert at his best.
| | |
| --- | --- |
| Monday, 24 January 2011 | |
Written by Raceway Extreme Tube BMX Team
Matthew Butterworth is not an extreme sports athlete, but he's bound to be in venues where the athletes are. He's usually found on the streets photographing BMX bikers, or on the courses capturing the wild action. Butterworth is one of the notable action sports and BMX photographer out of Canada. He lives in Kelowna, British Columbia.
Prepare to be amazed. More photos are available on Matt's Web site at http://butterworthphoto.ca
Written by Raceway Extreme Tube Team
It's that time of the year when extreme sports fans gather together and watch the gods and goddesses of extreme sports defy gravity and inspire awe. The Winter X Games launches on Jan. 27 in Aspen, its home for the past ten years.
ESPN Launches Winter X Games Micro Site

With only six days to the WX Games, ESPN has unveiled the 2011 site at http://espn.go.com/action/xgames/winter/2011/. Get the latest news, more information about the athletes, event information and everything you need to know about the Winter X Games here.

Outkast's Big Boi Headlines

It has been announced that Outkast's Big Boi is going to headline the Bud Light Hi-fi Concert. You can catch Big Boi on January 29 at the bottom of Aspen Mountain.

Tete-a-tete with Your Idols

ESPN has announced that they have lined up Tucker Hibbert, Tanner Hall, Jeremy Jones, Simon Dumont, Kevin Pearce and Danny Davis for a live chat session from January 27 through 30. For those who are interested in shooting the breeze with their idols, check out http://espn.go.com/action/xgames/winter/2011/news/story?page=2011-winter-x-games-athlete-chats

Canadians Might Prove to Be Strong Contenders

The Canadian ski cross team have always shown to be great contenders at every Winter X Games outing, but this year, competitors are quite literally shaking in their boots.

This is after the team practically shined at the World Cup with Kelsey Serwa leading all Whistlerites in qualifying for the quarter-final heat. Every one in the women's team, Ashleigh McIvor, Julia Murray and Marielle Thompson, finished within the top 16. Chris del Bosco surmounted a knee injury and won the men's finals, ranking second only to Andreas Matt.

Real Snow
WX15 launched the first ever real snow competition, where eight of the world's best and brightest snowboarders compete for medals, money and bragging rights. Dan Brisse, Simon Chamberlain, Seth Huot, Jeremy Jones, Louis-Felix Paradis, Joe Sexton, Nic Sauve and JP Walker were all invited to compete in the video only contest, similar to summer's Real Street Skateboard contest.

Each of these athletes will work with an editor to present a one-minute video documenting up to eight tricks each. The videos will air on Jan. 29., but fans will have a chance to see the videos beforehand and vote on their favorites.

All eight will also compete in the first Snowboard Street fete live on the same day.

Curious? Well fans have already cast their vote and these four snowboarders won their nods:

Nic Sauve

Dan Brisse
JP Walker
Jeremy Jones
So who's your favorite? Vote now to add your voice and have a choice on who will get into Round 3 of voting and discuss it in the comments board below!
| | |
| --- | --- |
| Thursday, 20 January 2011 | |
Written by Raceway Extreme Tube Team
For most people, extreme sports is a male-dominated domain. But over the years, we have seen some women who crept into the scene and made an impression. But these five ladies surely make us stop and stare and gawk. And we're not just talking about their looks too, they can kick ... big time.
5. Karina Petroni




Hawaii resident Karina Petroni is an accomplished surfer and skater who has been on the board for more than two decades, and she's just 22!

Petroni started competing before she even turned 10 and now have several medals under her belt. She has won the Eastern, National and U.S. Championship titles in that first outing.

Petroni is also a fashion model appearing in various publications such as Teen People, Cosmo Girl, Teen Vogue, Girls Life and yes, FHM. She was the beauty that appeared on billboards, posters and ads for a lot of different consumer products. She also tried her hand at acting, appearing in "The Cove" which won a 2009 Academy Award.

Related Sites:
Official Web site: http://www.karinapetroni.com/

4. Elysia Ulrich




Elysia Ulrich says that she wanted a dirt bike at age 10, but only got her first taste with a 1994 KX 125 seven years later. In December 2002, she started racing with a YZ250F. She was soon seen in Hangtown, MRANN Women's Champion, Reno Motocross Night Series. She became the champion in the 2003 and 2004 MRANN and 2004 Reno Motocross Night Series Women's.

But what is infinitely sexy about Ulrich is not the way she rides, but her outlook. She is currently a full-time student pursuing a degree in business.

3. Anastasia Ashley



Ashley has a birthday coming up this February 10, when she turns 23.

When she was five, Ashley began surfing after her family moved to Hawaii and quickly became one of the most talented surfers in the sport.

Anastasia is a vegetarian and has been seen in People for the Ethical Treatment of Animals TV spots. She became an instant Internet sensation after appearing on MTV's World of Jenks.


Related Sites:
Official Web site:
http://www.anastasiaashley.com/
2. Jolene Van Vugt
On her MySpace profile, Jolene writes: "I love being active and doing all kinds of things. Motocross, bmxing, snowboarding, skydiving, FMX, wakeboarding, snowcross, hockey, go-karting, modeling, working out, dancing, spending time with friends/family, doing new adventurous things that push my limits, taking tones of photos and traveling a lot!"
Van Vugt holds the distinction of being the first female to do a backflip on a full-sized dirt bike ramp, mastering the feat way back in 2005. She also holds the record for the longest backflip done by a girl.
She's also part of Nitro Circus.
1. Roberta Mancino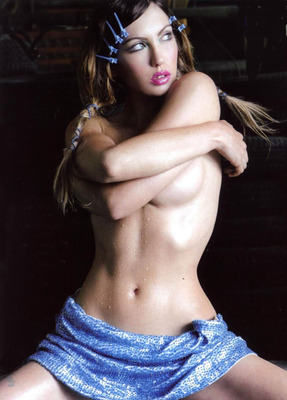 If having a beautiful face is not enough for you, how about a beautiful face being voted as Men's Fitness' sexiest woman in all sports?
But that's not all. Roberta Mancino has done more than 4,000 jumps in her skydiving career. In four of these, she was entirely naked. But that's not all. Mancino is currently the Italian national freestyle champion and a free fly record holder. Not bad for somebody who only started in the sport in 2001.
| | |
| --- | --- |
| Tuesday, 18 January 2011 | |
Written by Raceway Extreme Tube Team
For most of us, Destination X equates to that yearly Total Nonstop Action wrestling event dotted by men in horrible spandex costumes, wrestling, muscles and bad acting. The pay per view event drew 900 people to the TNA Impact Zone in Orlando, Florida during its 2010 offing.
But there is another kind of Destination X. This one has two of the elements closest to our hearts: extreme sports and pretty women. Basically, the show takes five women and their guests to different locations and lets them try out some of the most dangerous and extreme sports that used to be dominated by men.

They are trained to do the stunts and the point of the show is to see these sexy girls tumble and all that.

Take a look at their opening credits for season 2.


These are probably the most beautiful and sexiest bunch of hosts doing the rounds of extreme sports. Watching each episode is very instructive. You know, you might get tips on... uhm... how to safely swim with sharks.
Today, let's take a look at RacewayExtremeTube.com's favorite, Celeste Thorson.
Celeste Thorson was born in Southern California. Through her early years, she had always spent time hiking, camping, rock climbing and spending some time on the ranch. More than just a pretty face, there's more to her than meets the eye.
At 17, she was a political activist working for different non-profits and charities. At an early age, she was able to work with Green Peace, Save the Children, Sierra Club and other similar groups.
She is also a model, working with noted designers such as Alisse Thatcher and Margie Kent. She has also graced several fashion spreads and magazine covers. She has worked as a writer for Destination X and the Industry, where she also associate produced some of the episodes. She's appeared on the hit TV series, How I Met Your Mother and have been in several movies including the upcoming The Billy Armstrong Situation.
If you can't place her looks--she has been compared to a young Catherine Zeta Jones, Bjork and Shannen Doherty--it is because of the mix of ethnicity. She has Korean blood, mixed with Irish Lebanese, Apache American Indian, Spanish, and Scottish lines.
Get to know more about Celeste Thorson here:
http://www.celestethorson.com/
Get to gather more information and find out where you can catch these fine ladies here:
http://www.destinationxtv.com/
| | |
| --- | --- |
| Updated: Friday, 14 January 2011 | |
Written by Raceway Extreme Tube Team
At
RacewayExtremeTube.com
, we always put an emphasis on two things. One is to enjoy life doing what you love most, no matter how extreme it is. If you get a high performing tricks on your skateboard, or defying gravity on your snowmobile, then enjoy each moment. As long as you practiced and got the techniques down pat. As long as you learned the trick well. And as long as you remember emphasis #2.
Emphasis #2 always be safe.
There is the draw of higher risks, faster speeds and daring heights in extreme sports. Goals change as frequently as a manufacturer can get technology for its machines. Participants are pressured to push the limits. As such accidents are common place in extreme sports and some can even be fatal.
Extreme sports may be dangerous, so always opt to be safe when trying out a stunt.
Learn from the masters.
This is one goal of RacewayExtremeTube.com, we feature videos of accomplished athletes doing the things they and you love to do so you could see just how things are done. But if you are serious about your chosen sport, then invest in somebody who could teach you very well. A veteran in your chosen sport can help warn you about the dangers of certain tricks, help you get the gear you need and even teach you the fastest way to learn something.
Take your time.
It is cool to be able to jump off a cliff during your first round. You think that if you have the gear, you can survive the fall. But remember that people who do death-defying acts took time to practice and perfect their techniques before they even attempted to dive off a cliff.
Invest in your safety gear.
Don't scrimp on your safety gear. Get the best helmets, knee pads, gloves, goggles, or you will find out that you get what you pay for should you figure in an accident.
Listen to your body.
Pains, cramps, injuries are not something to be taken lightly. If you get injured, always see a doctor. Your doctor will be able to advise you on how not to get hurt again, or if needed, tell you to stop because your body can't take it.
Learn from mistakes.
Extreme sports is one area where you can commit many mistakes. Take time to learn from it and fine tune your own techniques when you do your stunts. You don't even have to make them. We think that mistakes made by others are a good opportunity to learn. This is why crash videos are very popular.
Like this one:
Written by Raceway Extreme Tube Team
Andreas Steffen
Andreas Steffen is a software engineer by profession and skier by heart. Not a bad combination by any standards. The 6'2" Swiss skier has been with the Swiss national team for seven years and has been a constant fixture at the events since 2002. His best finish was at the 2009 Skier X competitions where he got the bronze medal. He is hot for another podium finish at this year's X Games.
Aside from the X games, Steffen has also been seen at the 2009 Worldcup FIS, the 2009 World Ski Championships, and the Swiss Series
Related sites:
Andreas Steffen's Web site
Davey Barr
Davey Barr has only been with the Canadian Ski Cross team for only close to two years and he's one of Canada's top-notch skiers. He got his fist World Cup in 2008 and was third overall at the World Cup stop in Cypress in 2009. He's been seen at the Winter X Games since 2003.
He has also competed at the 2010 Winter Olympics where he's ranked 6th, the FIS World Cup and the Canadian Championships.
Related Sites
Davey Barr's Official Web site
John Teller
John Teller recently made the news by becoming the first American to win the World Cup in St. Johann Austria. Teller Has been competing in the Winter X Games since 2009 where he placed 20th overall. John Teller is a mechanic when he's not in his skis.

Teller's winning moment in Austria may be viewed on his Web site.
Related Sites:
John Teller's Web page
Chris Del Bosco
Chris Del Bosco is a native of Vail, Colorado who now skis for Canada. Del Bosco is a member of the Canadian national ski cross team. From a history of substance and drug abuse, he went on to compete in the 2006 Winter X Games where he won the bronze medal, and then won two world cup events at the 2009 Freestyle Skiing World Cup. He also competed in the 2010 Winter X Games where he won gold in the ski cross finals.
Here is Del Bosco's winning 2010 Winter X Games moment.
Related Sites
Chris Del Bosco's Web site
Dave Duncan
Dave Duncan writes that he has been skiing since the age of three and have been competing in a lot of events ever since. He is currently a member of the Canadian Ski Cross Team.
He finished 1st in the Continental Cup in Argentina, 3rd in the Europa Cup in Austria. He was 2nd at the 2010 Winter X Games, after fellow Canadian Del Bosco.
Aside from that, Duncan has placed 1st in the Canadian Nationals Championships in 2009, and the Spanish National Championships in 2008.
Related Sites:
Dave Duncan's Web site
| | |
| --- | --- |
| Updated: Thursday, 13 January 2011 | |
Written by Raceway Extreme Tube Ski Team
Ski cross athletes have formed the American Ski Cross Association.
This was after the United States Ski and Snowboard Association, or USSA, stopped funding to elite sports, which includes ski cross.
The USSA's president and CEO Bill Marolt announced the changes last month after the USSA adopted the USSA Strategic Plan. The cuts were part of the changes initiated in the Plan.
Thus, with absolutely no funding from the USSA, racers such as Daron Rahlves and Michael Duran stepped up efforts to form the American Ski Cross Association. The ASCA aims to provide funding for ski cross athletes to develop, train and compete at a level that is world-class. ASCA's Mike Jaquet says that the association's first goal is to get world-class athletes and funding to win the Sochi Russia competitions in 2014.
The ASCA has already gathered enough funding to support a team at the 2011 International Ski Federation World Cup's first event in Italy, and is currently boosted by John Teller's win in Austria.
John Teller Brings Some Good News for ASCA
John Teller, an ASCA skier, made history by being the first American to win a Ski Cross World Cup, leaving behind Canadian Nick Zorici and Austrian Thomas Zangerl.
Teller has credited the ASCA for his participation in the World Cup and has said that he would not have been able to compete without its support.
ASCA for its part would be able to capitalize on Teller's win to help boost its credibility and help it secure a long-term source for its financing and development of the sport. ASCA hopes to have men's and women's teams composed of 8 to 10 racers each in future events, as well as coaching younger ski cross racers. This would put the U.S. team at par with the Europeans and even the Canadians.
Other Changes at the USSA
Together with the cuts at the USSA, personnel movements were also announced. Luke Bodensteiner became the Executive Vice President for Athletics. Mark Lampe retains his post as chief financial officer, but this time he will also be in charge of building management, human resources, and several operational tasks. Andrew Judelson will now oversee revenue and marketing, as well as other areas such as corporate partners, licensees, media, content development and membership among others.
Aside from these, Bodensteiner, Judelson will now report directly to Marolt. Dick Coe, the Association's chief operating officer will no longer hold that title as the COO post has already been eliminated. Coe, however, will still be working closely with Marolt on some projects.
Related pages:
ASCA Like Page
| | |
| --- | --- |
| Updated: Tuesday, 11 January 2011 | |
Written by John
It's that time of the year again and all extreme sports fans are planning their way to Colorado where the 15th annual Winter X Games are going to be held on January 27 to 30, 2011!

This year, more than 200 extreme sports athletes are going to show off their wares in snowboarding, snowmobiling and skiing. See them fly, defy gravity in jaw dropping action. So guess who has been confirmed to return to the X Games this year? For snowboarding, you have Mikkel Bang, Sage Kotsenburg, Jamie Anderson, Cheryl Maas, Enni Rukajarvi, Zack Black, Kazuhiro Kokubo, Shaun White, Scotty Lago, Holly Crawford, Eero Ettala, Tyler Flanagan and Sebastien Toutant. For skiing, we have Bobby Brown, Tom Wallisch, Ashley Battersby, Grete Eliassen, Keri Herman, Xavier Bertoni, Byron Wells, Jen Hudak, Devin Logan, and Jacob Wester. For snowmobiling, we have Chris Heppding, Doug Henry, Jeff Tweet, Daniel Boldin, Caleb Moore, Cory Borchers, and Parker Brown. This is partial and unofficial, for the updated list, please go to this page: Winter X Games: List of confirmed athletes .

The games are going to be at Aspen Co, which has been the home of the games for the past 10 years.

The Winter X Games have been the most-watched games in the past three years where it has consistently brought in more than 43 million viewers. Live coverage of the games will be on ESPN and ABC, with more than 20 hours of airtime alloted for the games.

That's just for two channels: ESPN and ESPN2. This year, there are two additional channels to watch the Winter X Games on. Enjoy exclusive and live videos on ESPN3.com and 3D coverage too!

The coverage starts on January 26 on ESPN3.com and continues at different channels through Sunday. For more information head on to the official ESPN site schedules .
But the fun is in being there, as more thatn 84,000 people came to Aspen last year for the 14th Winter X Games.

The Winter X Games was launched in 1997 and already close to 30,000 people were there. That number continued to rise, peaking in at around 80,000 people attending the games annually starting from the year 2000.

Winter X Games watchers should bookmark the official ESPN site for the Winter X games at http://expn.go.com/ for up-to-the-minute news on the games. You can also find great coverage and videos only here at RacewayExtremeTube.com
So what's RacewayExtremeTube.com without the videos? It's a Monday, so we might as well wake you up with the BEST tricks from last year's Winter X Games. Enjoy!
| | |
| --- | --- |
| Updated: Monday, 10 January 2011 | |
Written by Raceway Extreme Tube Team
It feels really good to be at home. Even if you have not been home for more than 3 years.
And this is how we feel about RacewayExtremeTube.com It might have been a long time since our last post, but our love for the extreme has not changed. And over time, we have learned that sometimes life has to be lived in order to do the things we love. But enough of that. We're back and we promise a bigger, brighter, better blog that gives you all the extreme stuff. This is where you can get your daily fix of the best of the Web, the updates, the high-profile athletes and interesting people, things and places that would make you come back for more.
And to kick things off, we'd like to leave you with this short YouTube clip of what you can expect from us from now on. We chose this video because it brings together some of the world's best extreme athletes. Don't mind the watch!
Written by Raceway Extreme Tube: BMX
Alex Hiam may look like your pesky little brother who does nothing but do all those juvenile kid stuff and make your life miserable. And by all account, this professional BMX rider may be all that had he had older siblings. Hiam lives like a normal kid enjoying the things other kids do. Looking at him, it seems that he's nothing really special. That is, nothing special until he gets on that BMX bike and shows his stuff on ramps.
Alex Hiam has barely even gotten to his teens but a lot of BMX watchers are already predicting that he's going to be the next biggest BMX rider.
...continue reading
Written by www.fullnoise.com.au
High-flying Australian freestyle motocross star Joel Balchin has re-signing with Suzuki Motorcycles again for 2008.
Balchin will continue to wow crowds locally and globally aboard a Suzuki RM250 as part of numerous events and demonstrations, including the 2 Wheel Moto Mayhem Motorcycle Games, in which Balchin finished fourth in Melbourne last weekend.
Balchin's fourth year aboard a Suzuki, 2008 looks set to be a busy one with Crusty Demons tours of the United Kingdom and Australia already on the schedule for the first quarter.
Balchin will continue to utilise the expertise of Jay Foreman Racing; the team behind the Australian factory Team Shift Motul Suzuki off-road outfit will prepare his RM250.
"I'm really looking forward to 2008 and continuing my partnership with Suzuki," Balchin said.
"It's going to be a full on year. We've got some Crusty Demons shows in the U.K. in January, before a tour of Australian regional centres which will be huge; the Aussie crowds are always awesome.
"The Suzuki RM250 is a great all-round package for freestyle motocross. I love the power of the engine; four-strokes are the direction things are going in for racing, but two-strokes and their low-end power are perfect for what we do.
"Jay Foreman helps me a lot with the preparation of the bike and his knowledge of suspension, which is crucial in freestyle motocross, is second to none - it's great to have him involved." Balchin is sponsored by Suzuki, Shift, Motul, Tag Metals, Pro Circuit, Alpinestars, Utopia Optics, Balls Deep Boxers, Pod MX, Sikspak and Globe. This story is from
www.fullnoise.com.au
This image is from
www.fullnoise.com.au
Written by www.motorcycle-usa.com
Red Bull has released more information about the upcoming Red Bull Experiment, where Rhy Millen and Robbie Maddison will thrill sin city spectators with daredevil stunts. Millen is planning on the first-ever backflip by a off-road truck, while Maddison is planning on jumping the length of a football field. Readers can check out the Red Bull Experiment preview video on Youtube.
The Red Bull Experiment on New Year's Eve, live from Las Vegas on ESPN.
On Monday, December 31, Rhys Millen will attempt to execute the first-ever backflip in an off-road racing truck and Robbie Maddison will jump the length of a football field (more than 300 feet!) and attempt to set the distance record for a motorcycle jump. They'll do these live in front of thousands of fans at the Rio All Suite Hotel & Casino in Las Vegas and millions of viewers on ESPN's "New Year. No Limits" telecast.
For additional information including the latest preview video, images and desktop wallpaper of the entire Red Bull Experiment, visit
www.redbullexperiment.com
. This story is from
www.motorcycle-usa.com
This photo is from
www.motorcycle-usa.com
Written by www.bexhillobserver.net / Becky Churcher
A daredevil trainee solicitor will be skateboarding down Mount Fuji, the highest mountain in Japan, in memory of his late brother.
James Langridge from Newick will be attempting to travel down the 12,388 feet high mountain in just two hours next year.
After completing the London Marathon this year, where he raised £1,500 for the Foundation for the Study of Infant Deaths (FSID) James wanted to take on a new challenge for the charity.
He said: "It has been my dream to conquer Mount Fuji for a while now after reading an article about it and I thought I would do it for charity.
"My brother, who was born a year before me, died of cot death in 1980. This year I ran in the 27th London Marathon, the same day that my brother would have been 27."
You can sponsor James at his Just Giving page. You can also support him by joining his facebook group For more on this story see this week's Mid Sussex Times. This story is from
www.bexhillobserver.net
This photo is from
www.bexhillobserver.net
Written by www.pjstar.com
Last year's Winter Jam Tour landed on PollStar.com's Top 10 winter tours. What will this year's event be like? There's only one way to find out. The Winter Jam Tour Spectacular, one of Christian music's largest annual tours, is scheduled for 7 p.m. Jan. 24 at Redbird Arena. The show features MercyMe, BarlowGirl, Skillet and Mandisa from "American Idol," and will be hosted by NewSong. Also included in the lineup is guest speaker Tony Nolan and the Real Encounter's Xtreme BMX/skate team. Tickets are $10 at the door. For more information, visit
JamTour.com
This story is from
www.pjstar.com
Written by www.firsttracksonline.com
San Francisco, CA - San Francisco's Dstructure will host a screening Friday night of The Icer Air Urban Big Air Invitational, the one hour feature show chronicling the city's annual ski and snowboard festival currently airing on Fox Sports Net nationally.
The show gives viewers a backstage pass to all the highlights from this year's event, including jump construction, interviews with athletes such as winners Jon Olsson and Travis Rice, and coverage of skate, BMX and freestyle motocross sessions, as well as the parties and behind-the-scenes antics. The one-hour special will touch upon the history behind Icer Air and its start in 2005 when 15,000 people gathered on one of San Francisco's steepest streets to witness urban skiing and snowboarding.
The show starts at 8 p.m. at Dstructure, located at 520 Haight Street. Icer will be selling all Icer Air merchandise (new era hats, hoodies, shirts and North Face jackets) at 25% off for one night only. In addition, there will be numerous merchandise deals, Head skis to give away, free Peroni beer and other surprises. This story is from
www.firsttracksonline.com
Written by cms.ibj.com
Major event could lure international crowds
A new kind of motorsport soon could be flying into the Indianapolis Motor Speedway.
Speedway officials are in discussions with the Red Bull Air Race World Series, a 5-year-old airplane race circuit that combines the intrigue of a high-wire circus act, thrills of an alpine ski race, and cutting-edge technology of Formula One auto racing.
"Indianapolis is in our sites, to say the least," said series spokeswoman Maddy Stephens. "The city's deep motorsports roots and a historical backdrop like the Indianapolis Motor Speedway make it a fantastic location."
An air race could land at the Speedway as soon as 2009, Stephens added.
Several factors make the event intriguing to IMS and local tourism leaders, including that it would bring international crowds to the city and attract a worldwide TV audience.
"This is just catching on in the U.S., but it is hugely popular in Europe and other parts of the world," said Zak Brown, president of Indianapolis-based motorsports marketing firm Just Marketing, which has overseas offices and ties to sponsors worldwide.
The series currently has 10 races, two in the United States. Competing planes usually take off from a nearby airstrip, then fly low to the ground through an obstacle course of sorts. A Red Bull Air Race World Series event would be the first plane race staged at the Speedway.
IMS officials attended two of the circuit's races in 2007, and series honchos recently visited Indianapolis to tour the Speedway and surrounding cityscape, especially downtown and its hotels.
The Speedway will mark its 100th anniversary in 2009, and IMS Chief Operating Officer Joie Chitwood said some special events might be staged to highlight the milestone. The 100th anniversary of the Indianapolis 500 is 2011, and IMS officials are planning a multiyear celebration.
"I don't know how many annual events we would host after" the Indianapolis 500, Brickyard 400, MotoGP motorcycle race and a corporate golf outing, Chitwood said at a motorsports conference in New York Nov. 28. "But with the centennial era approaching, I think it's about putting special events on the calendar. Air racing is very interesting to me."
The Speedway's annual calendar will become even more crowded if it succeeds in bringing back an F1 race, as Chitwood said he'd like to do.
Red Bull officials are hopeful that, if the air event proved successful, IMS leaders would consider hosting it annually. This story is from
cms.ibj.com
for more check them out!
photo from
cms.ibj.com
Written by www.atv.info
Do you like?????? Lets here your comments


Want to go for an exhilarating lap around downtown? The Haro Bullster sports a brand new approach to the ATV quad formula. The gravelled road has been abandoned for rubber-gripping tarmac.
Our aim has been to conceive and develop a full-focused street quad. With the Bullster our vision has materialized.

From its compact fuel-injected Euro 3 approved four-stroke engine to its fully independent suspension and rear axle differential, there are no compromises. The shocks are fully adjustable. Disc brakes front and back. Free to choose components from the very best suppliers worldwide, we offer the ultimate in motoring excitement and accessibility. This story is from www.atv.info for more info on this story check them out at http://www.atv.info/article.cfm?id=594

Photo from www.atv.info
Written by www.atv.info
The new Fun Fueler pressurized fueling system is now available from Epic Racing Products. The Fun Fueler is a pressurized fueling system that makes filling your ATV much easier than using 5 gallon fuel jugs.

The Fun Fueler comes in 16 gallon and 30 gallon sizes with its own steel hand truck. A CO2 tank pressurizes the system creating your own portable gas pump. You can refill the CO2 tank at any welding supply shop.

Features

CO2 tank, double gauge regulator, hose and mounting bracket.
Pressurizing lid, fueling hose and ON/OFF aluminum nozzle.
Durable powder coated 16 gallon steel fuel tank
Heavy-duty ratcheting tie-down straps.
The Fun Fueler can be purchased online at http://shop.EpicRacingProducts.com.


About Epic Racing Products: Epic Racing Products manufactures only the highest quality racing components. We race what we sell. Epic Racing Products and suspension components can be found on the ATVs of top riders from coast to coast, including WORCS Pro Champion Pro Josh Frederick and 3 time QuadCross champion Jeremy Schell. This story is from www.atv.info for more on this story please visit them at http://www.atv.info/article.cfm?id=599



this photo is from www.atv.info
Written by www.expn.com
Experience the world's most unique freestyle motocross contest from your couch (or break room) when Red Bull X-Fighters airs on ESPN2 this December. This global competition features the world's top FMX athletes showcasing their best tricks at iconic venues in Mexico, Spain and Ireland.
The broadcast schedule is as follows:
Mexico City, Mexico: Thursday, December 6, 5:30-6:30 p.m. ET / 2:30 - 3:30 p.m. PT
Slane Castle, Ireland: Thursday, December 13, 5:30-6:30 p.m. ET / 2:30 - 3:30 p.m. PT
Madrid, Spain: Thursday, December 20, 5:30-6:30 p.m. ET / 2:30 - 3:30 p.m. PT
An ultra-competitive field including superstars, old friends and young guns such as Travis Pastrana, Dani Torres, Ronnie Renner, Mat Rebeaud and Robbie Maddison battle it out for the judges with new and traditional freestyle maneuvers. Competing in a head-to-head format, each rider has 90 to 120 seconds to show his skills and impress the judges and audience.
A slate of five Red Bull X-Fighters events will take place in 2008, including new stops in Rio de Janeiro, Rome and Fort Worth, Texas - the first X-Fighters competition in America. This story is from EXPN.com for more please visit them at
EXPN.com
For more information, please visit
www.redbullxfighters.com
.
This photo is from
EXPN.com
Written by Chris Martin www.amasuperbike.com
After spending a year in racing limbo, former World Superbike champion Neil Hodgson didn't get much time to shake off the rust before being thrown into his 2008 workload at Daytona International Speedway. The new American Honda rider was a busy man this past weekend, having to carry the bulk of the test riding duties on the team's CBR600RR FX racer and all-new '08 CBR1000RR Superbike with teammate Miguel DuHamel still at home recuperating from injuries sustained during testing at Road Atlanta.

Erion Honda's Josh Hayes helped out by putting in some time on the Superbikes at the end of Sunday, but other than that, it was all Hodgson, who may have put in more laps than any other rider during the Dunlop test.

"Obviously we've had a lot to test," Hodgson said. "I'm really, really pleased. The 600 we've got dialed in, I know what I'm doing with that -- got a good setting. And sort of my preferred tire, I know what I like. I know I can come here and just ride around with that setting and I should be quick. And then with the Superbike we've a mountain to climb. We knew we would have. It's no surprise. We're trying to turn this street bike into a racebike. We've learned some stuff today. I said if I can do a '39 on that I'll be happy and I did a 39.2, which I'm pleased with because it's very stock. We've so much to work on. If I could ride it tomorrow I'd get a second off that, you know what I mean?"

Hodgson got a chance to A-B the '08 machine with last year's Superbike and came away with a favorable impression of the new bike's potential despite its early stage of development.

"I rode the old bike at the end just to confirm some things and it's so different, you know what I mean? It's definitely better in a lot of areas, in a lot of areas, so should be good."

Still, there's a long ways to go, as should be expected with the very stock racer that the team only received on Thanksgiving day. "We didn't have any (engine) management. And at the moment the throttle to back wheel connection was horrendous then. So it's horrible. All these horseshoe style corners, you've just got to turn the throttle really late, because other you'll be just over the handlebars with no electronics to save you at all. If you count out how far off it feels… It's not even a Superstock bike, really. It's just a street bike with some suspension." This story is from AMS Superbike for more on this story please visit them at www.amasuperbike.com

Photo from www.amasuperbike.com
Written by www.motorcyclenews.com Liam Marsden
The new RM-Z450 will have a five-speed gearbox. Up until now the RM-Z450 only had a four speed gearbox, but the extra gear means it will rocket down those short straights on the motocross track. This story is from Motorcycle News for more on this story and more photos please visit them at
www.motorcyclenews.com


This photo is from
www.motorcyclenews.com
Written by www.kitsapsun.com Kitsap Sun Staff
Ryan Villopoto's unreal year just keeps getting better.
The former Poulsbo resident — he still has family here — was named the AMA Pro Speed Athlete of the year for his accomplishments this season.The 19-year-old received the award — the most prestigious in his sport — at the 33rd annual AMA Pro Racing Championship Awards Banquet held in Las Vegas. Villopoto's the youngest rider ever to win it.
In only his second full season as a pro Villopoto had one of the most successful racing campaigns in AMA racing history. In February he clinched the 2007 AMA Supercross Lites West title. He then faced the biggest test of his young career in a season-long one-on-one battle with Monster Energy Kawasaki teammate Ben Townley in AMA Toyota Motocross Lites this summer. Villopoto went on to become the first to win the Motocross Lites class back-to-back since Ricky Carmichael did it in 1998. Villopoto closed 2007 by turning in a stunning performance at the Motocross of Nations in Budds Creek, Md., winning both motos in front of 75,000 fans to help the U.S. win the Chamberlain Trophy as the world's top motocross team. This story is from kitsapsun.com for this full story please visit
www.kitsapsun.com